Sitting about 3 hours north of Bangkok and easily combined with a trip to Ayutthaya, Lopburi is a town that anyone with an interest in photography should visit when in Thailand.
Although there's no doubt the beaches of the south, the hills of the north and the temples nationwide are highly photogenic, Lopburi offers something completely different.
Monkeys. Hundreds and hundreds of monkeys.
That's not to say Lopburi doesn't have its own temples and other sights but, for most visitors to Lopburi, the monkeys are the main reason to go.
Clambering over the temple they have made their own, swinging from power lines, and snatching food from the hands of anyone absent-minded enough to let them, Lopburi's monkeys pretty much keep the town on the tourist map.
The monkeys don't have the run of the whole place, however, and seem to know where they can and can't go. This means that once you've spent a few hours in their area, which is centred at the Prang Sam Yot temple and takes in a few of the surrounding streets, you might find there isn't much else to do that you can't elsewhere.
One day in Lopburi
I was travelling down from Chiang Mai to Bangkok and on to Koh Samui when I stopped off in Lopburi.
It wasn't the first time I'd been to Monkey Town. The first time I visited, back in 2010, I stayed the night. This time, I knew there was no need. All I really wanted to do was spend a few hours walking around photographing the monkeys with the Super-Takumar 55mm f1.8 on my Sony NEX-5N and get out again.
Sitting in the almost deserted train station sometime before 5 am, I hatched a plan.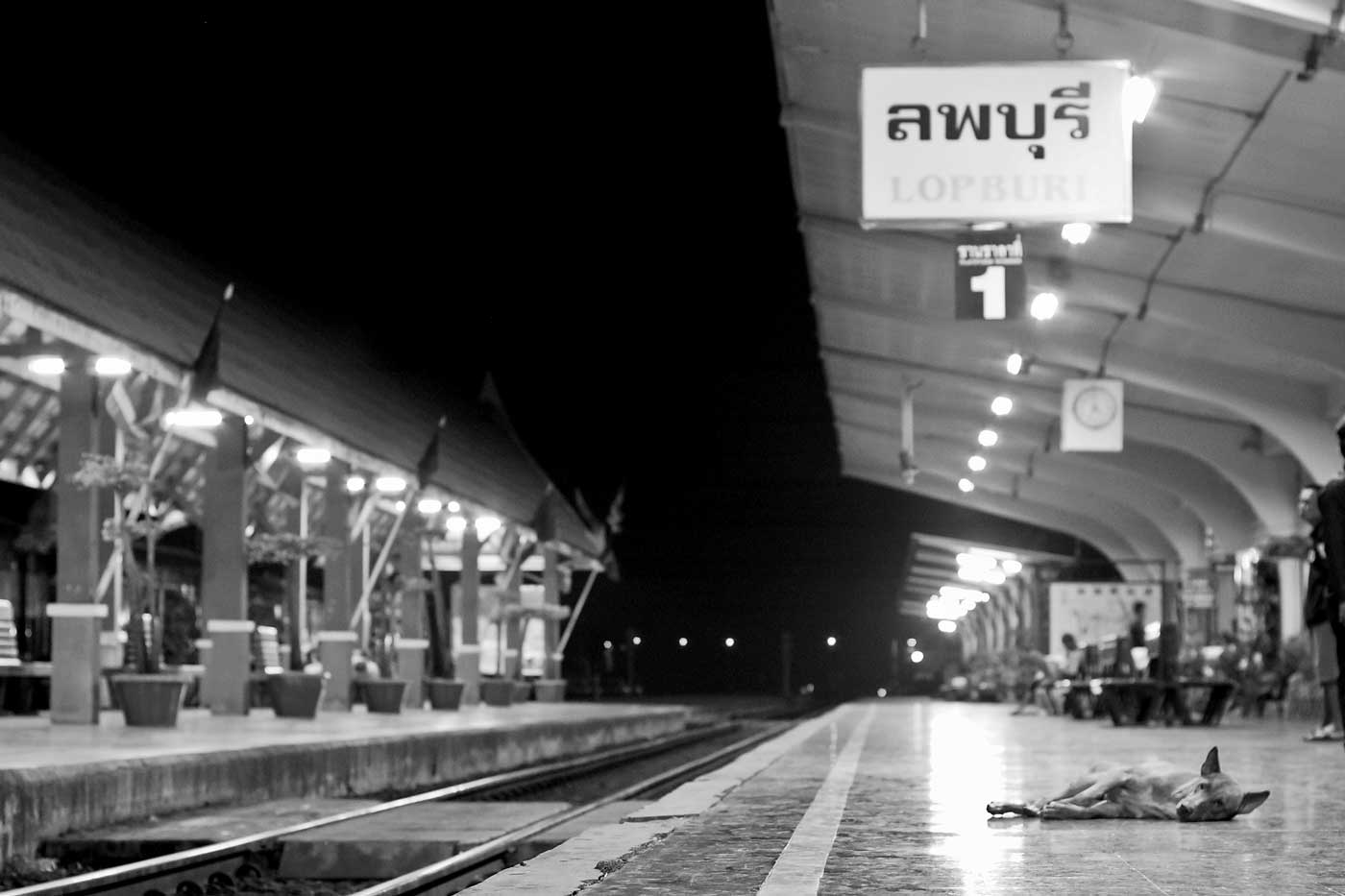 My overnight train from Chiang Mai had arrived just before 4 am and I knew I could take another on to Bangkok in the afternoon. For now though, I would leave my bags at the left luggage desk and go out into the dark, pre-sunrise streets of Lopburi to find some breakfast and wait for the sun to come up.
The sunrise and morning would be a good time to shoot the monkeys anyway, and if I could stay awake until the afternoon I'd be in Bangkok by the evening.
Walking out of the station, I was reminded just how ungodly an hour it was to be wandering around. Aside from a few food stalls preparing for the breakfast rush, there was nobody.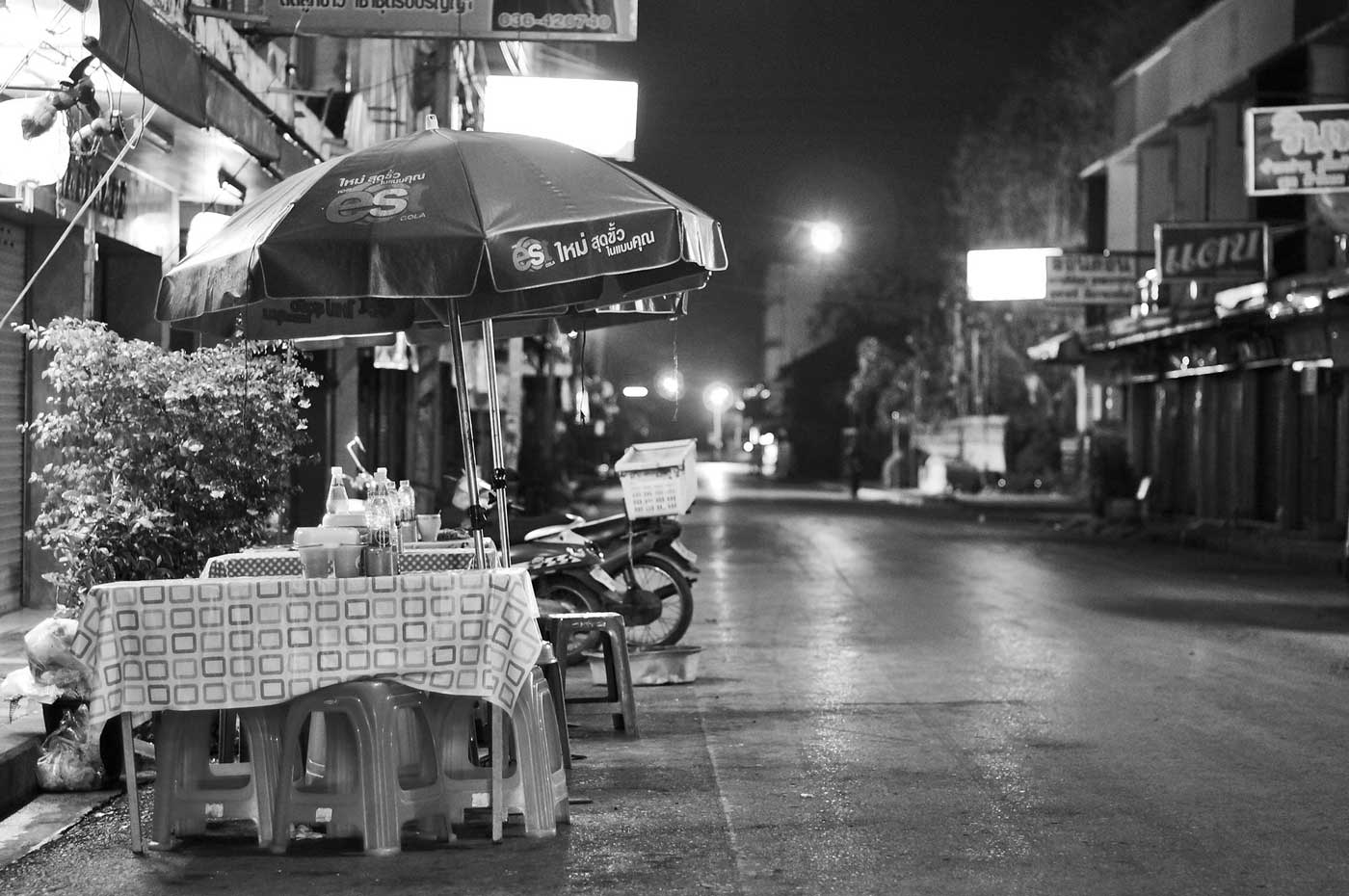 Still with hours to kill until sunrise, I wasn't exactly sure what to do. I walked further through the empty streets until I turned a corner and came across a pocket of activity.
The morning market. Bustling with buyers and sellers, meat and vegetables, local people and me, it was a good spot to hang around while I waited for the monkeys to wake up.
As always, I was shooting without a flash, preferring to make use of the artificial ambient light instead.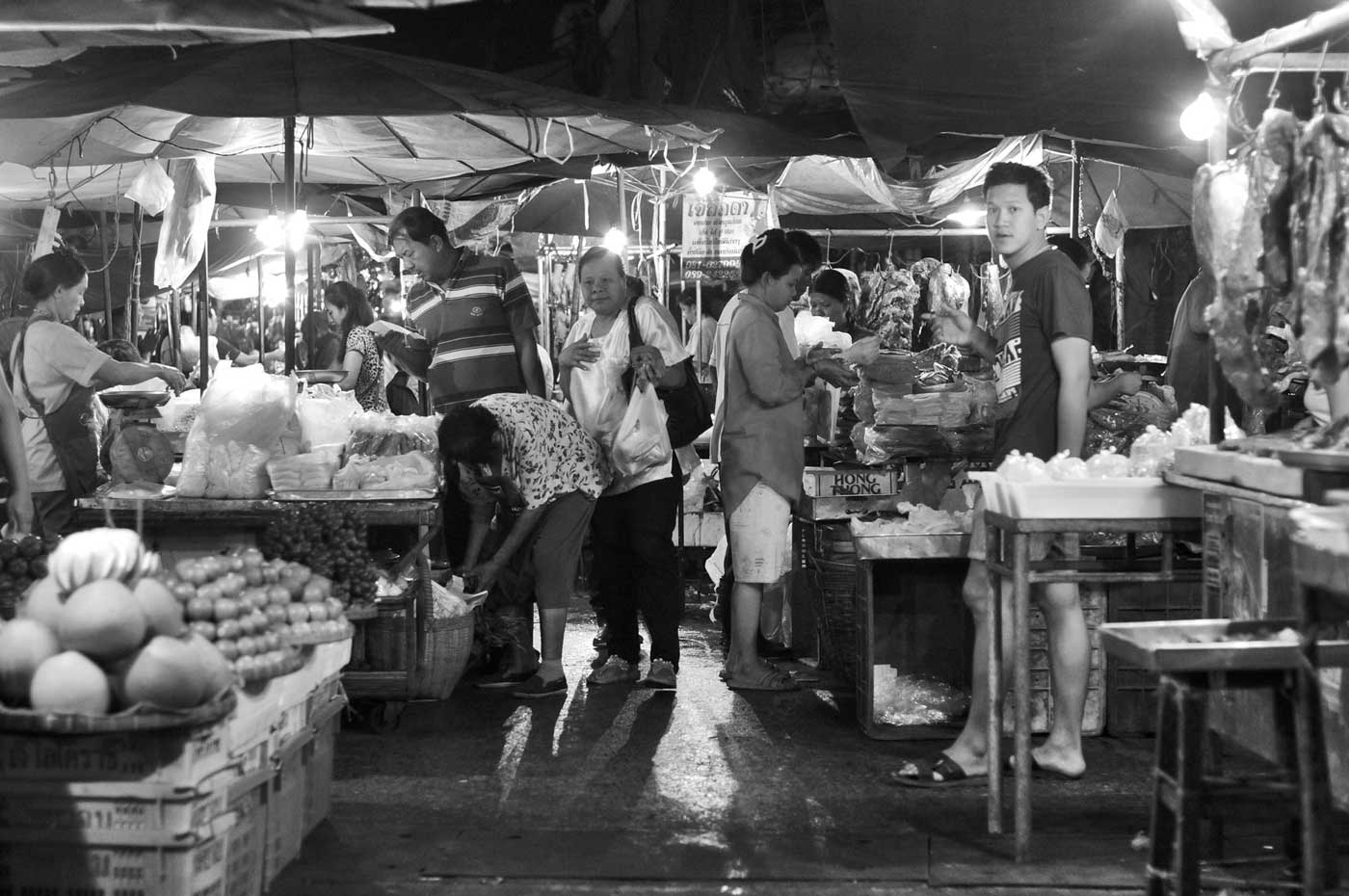 Despite spending as much time as possible at the market without making myself look odd, the sun still hadn't risen and the monkeys still hadn't woken up. As I walked back through their area, past their temple and over to a cafe near the train station, there was still no sign of them.
There was nothing to do but wait, drink my Coke, and look back over at the monkey temple across the road.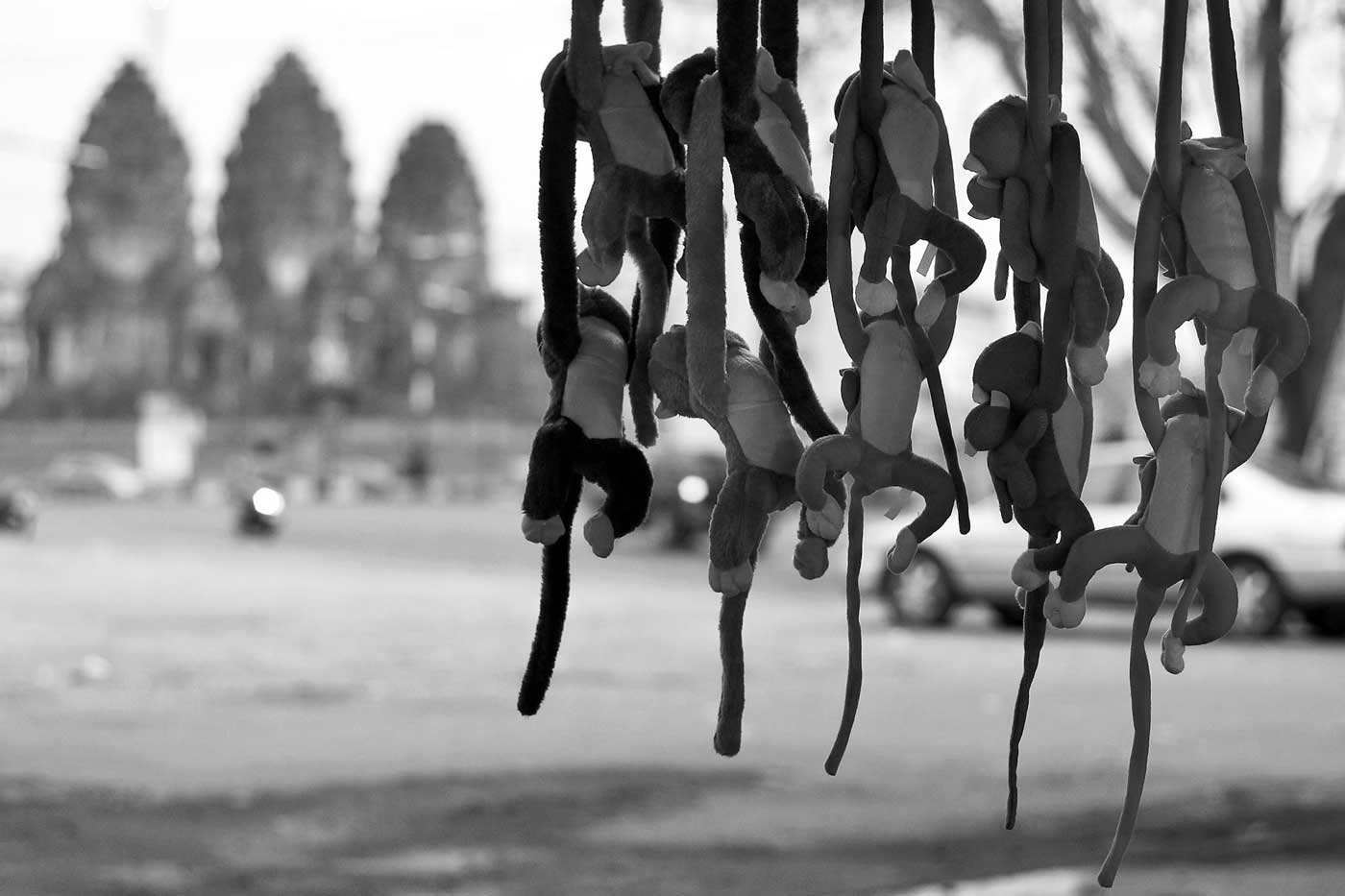 Before long, the sun was rising and the real monkeys began to show their faces too. As I stood outside the cafe and looked across the street at the row of buildings, I could see them appearing in their numbers on the roofs of apartment blocks and shops before swiftly clambering down the three storeys to the street below.
Five of them. Then ten. Twenty, thirty...
The constant stream of small monkeys invading the town from above was extraordinary. I'll confess to finding it a little intimidating too. The kind of scene you'd expect to see in a film. Part Planet of the Apes, part Gremlins, it was kind of nightmarish to see it happen in front of me.
Nevertheless, at least I could now go to the temple and get what I'd come for: pictures of Lopburi's monkeys.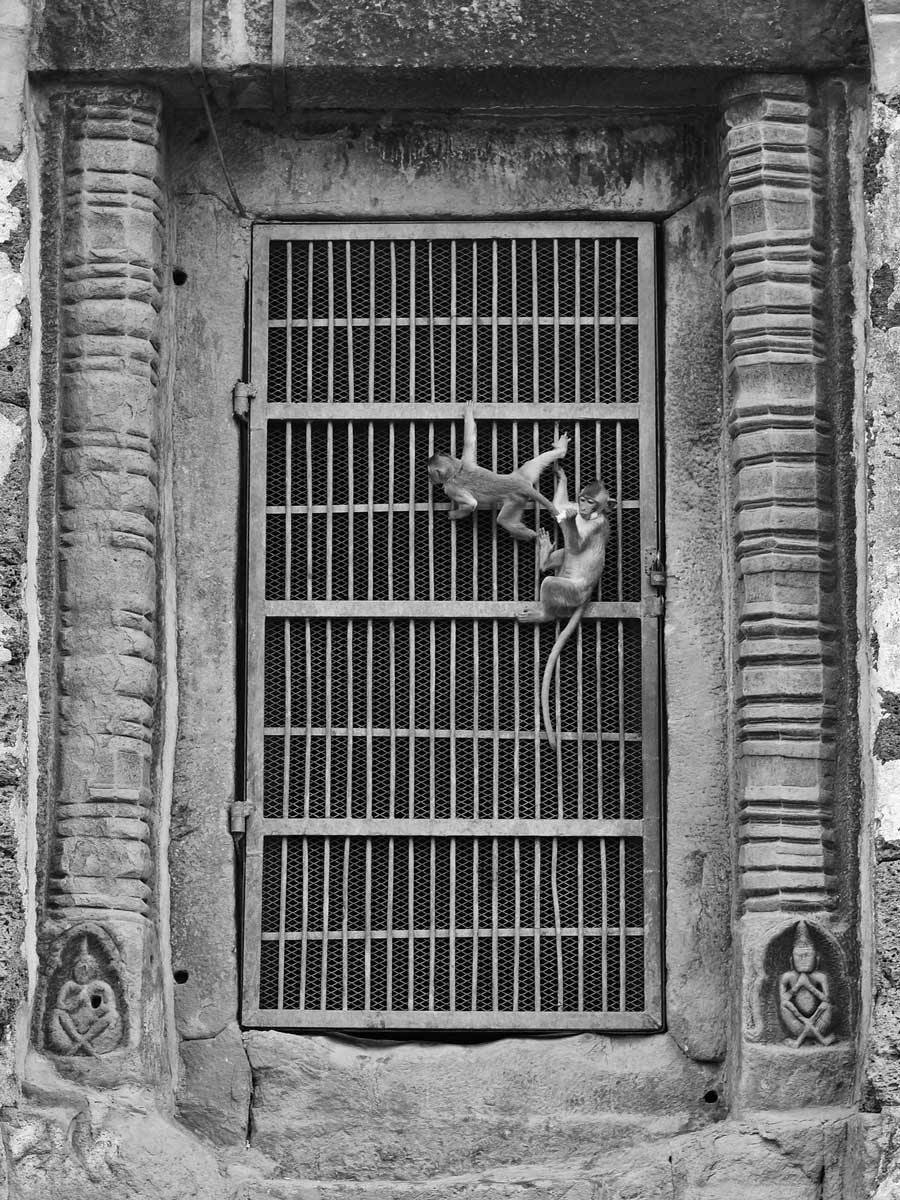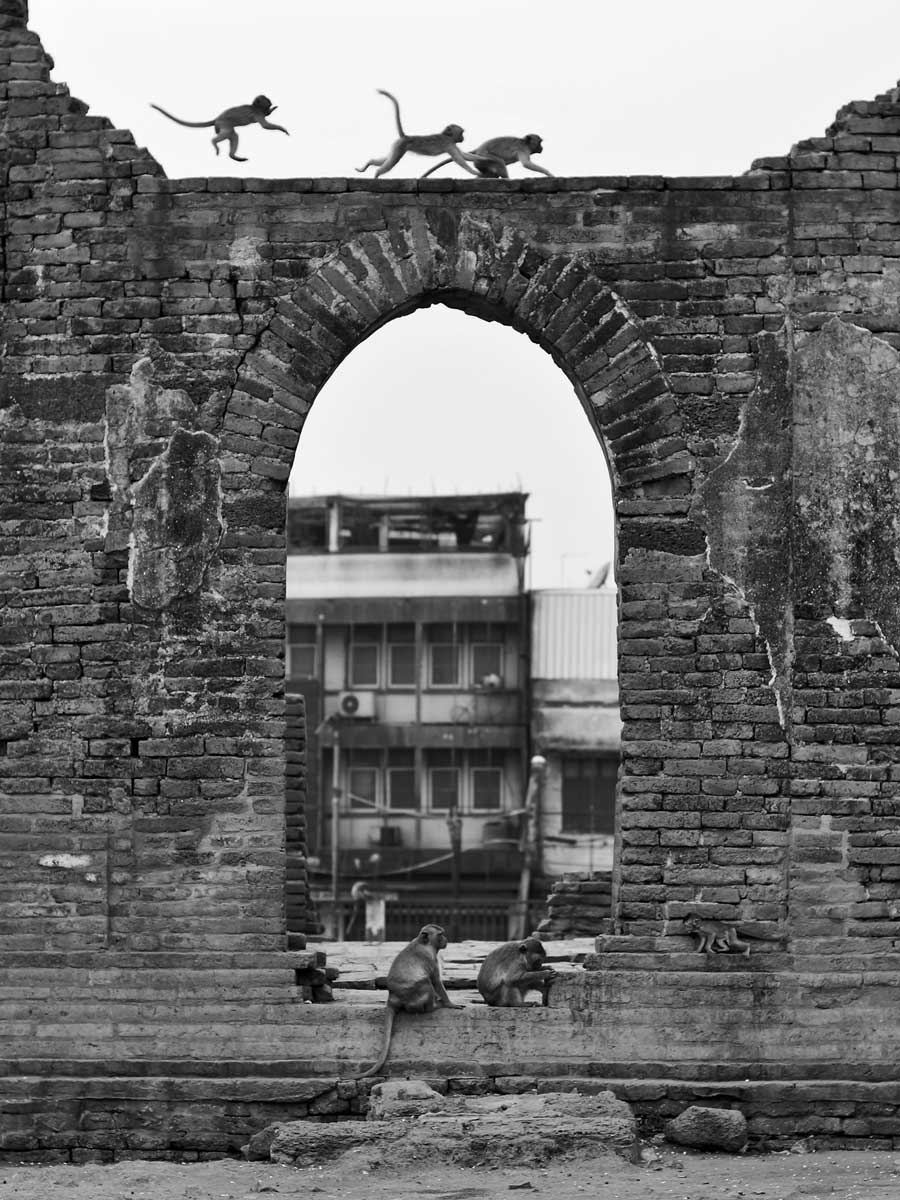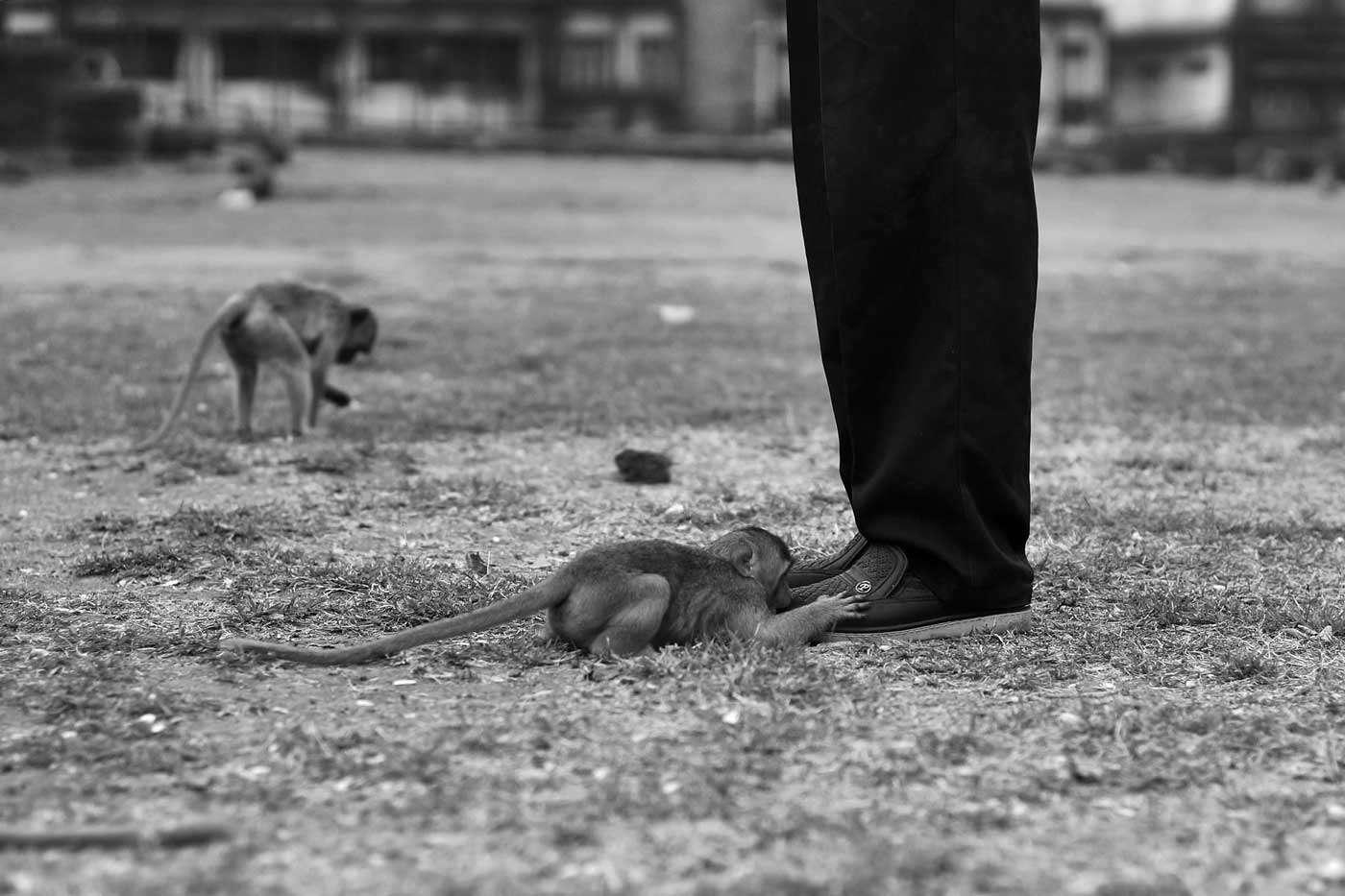 The triple-spired Prang Sam Yot temple that the monkeys have made their own was likely founded in the 12th or 13th century and built in the Khmer style. Shooting with the 55mm Super-Takumar means no shots of the whole temple, but I found it difficult to appreciate the building for what it was anyway. When it's covered in monkeys, it's easy to lose sight of the architecture and its significance.
Leaving the temple, I walked through the monkey infested streets that surround it and explored the more normal areas of the town. I even found the Lopburi Asia Hotel, where I stayed before. I don't think it's one of the town's best.
After sitting down to eat an early lunch, I continued exploring before predictably beginning to feel the effects of the very early start. Fortunately, I was in the vast grounds of the 13th century monastery, Wat Phra Sri Rattana Mahathat when the exhaustion really hit.
With no monkeys or people around and plenty of ruined walls to hide behind, I lay down on the grass, hugged my bag and fell asleep.
Waking an hour later, I continued exploring the ruins. Again restricted by the 55mm lens and shooting in monochrome, I stuck to the broken statues rather than the wider scenery.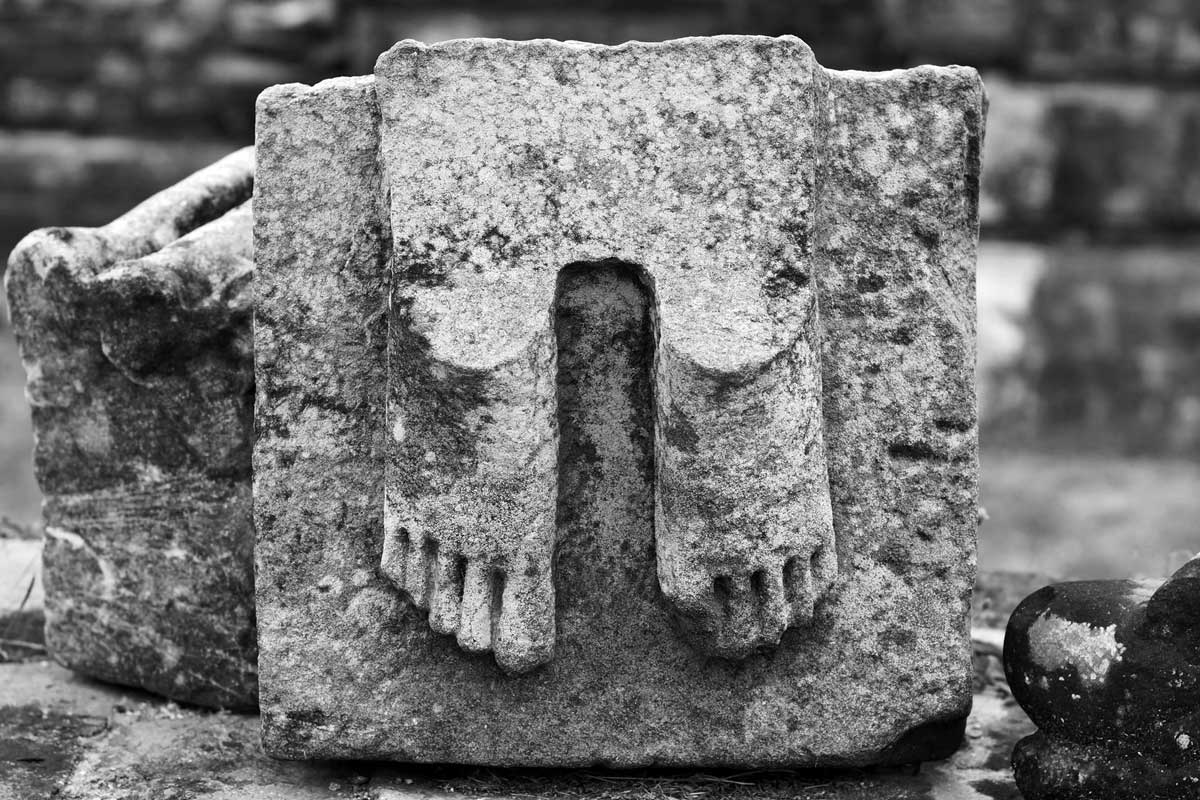 The midday sun was by this time making staying out in the open uncomfortable, so I left the monastery ruins and headed back into the town.
Earlier in the day, I'd seen the crowds of a local festival in and around another famous local building, the Narai Rajanivet Palace. Known more simply as King Narai's Palace, it was built in the 17th century and today houses the Lopburi museum.
I wandered in and found it to be full of school children. Despite it being firmly on the list of things to do in Lopburi, the festival itself seemed very sedate. I walked around, took a few shots, but soon left without really immersing myself or understanding what it was all about.
I'll put that down to still being tired.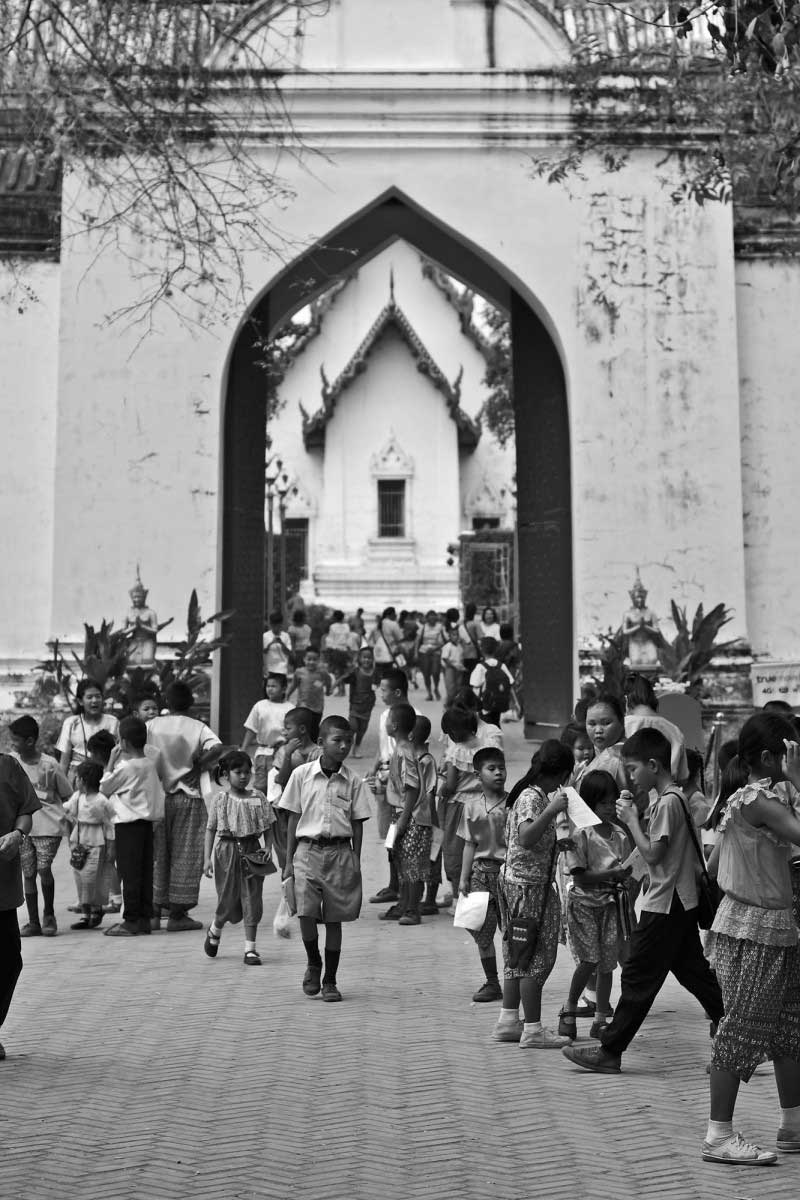 I later learned that the festival was a major event in Lopburi. Commemorating King Narai the Great, it's held annually and lasts for a week.
I learnt this from the man at the Namaste India restaurant shortly before my train to Bangkok was due to leave. He advised me to stay and see the night time activities.
If I'd done my research beforehand, I may have stayed. As it was though, my mind was set on being in Bangkok that night.
Leaving the festival and palace grounds behind me, I walked back towards the monkey area to get what I'd really come to Lopburi for: pictures of them in their unnatural habitat.
Walking through the monkey's turf means being constantly on your guard and taking a few precautions. Don't carry food or drinks in your hands. Keep any straps on your bag tucked in. Some even warn that they're not too shy to defecate on you from above.
Nothing untoward happened when I was there, but I was doing my best to always be aware of what was above and behind me.
Lopburi's urban environment gives the monkeys one massive playground to spend the day climbing on and swinging from. The cages installed over windows to keep them out just make it easier for them to scale the buildings, while the telegraph wires and poles are used to cross the roads.
They also loiter on the street, hide in the back of moving pick-up trucks, sit menacingly on window ledges high above the town, play with electrical cables, and sometimes kick off and start fighting with each other.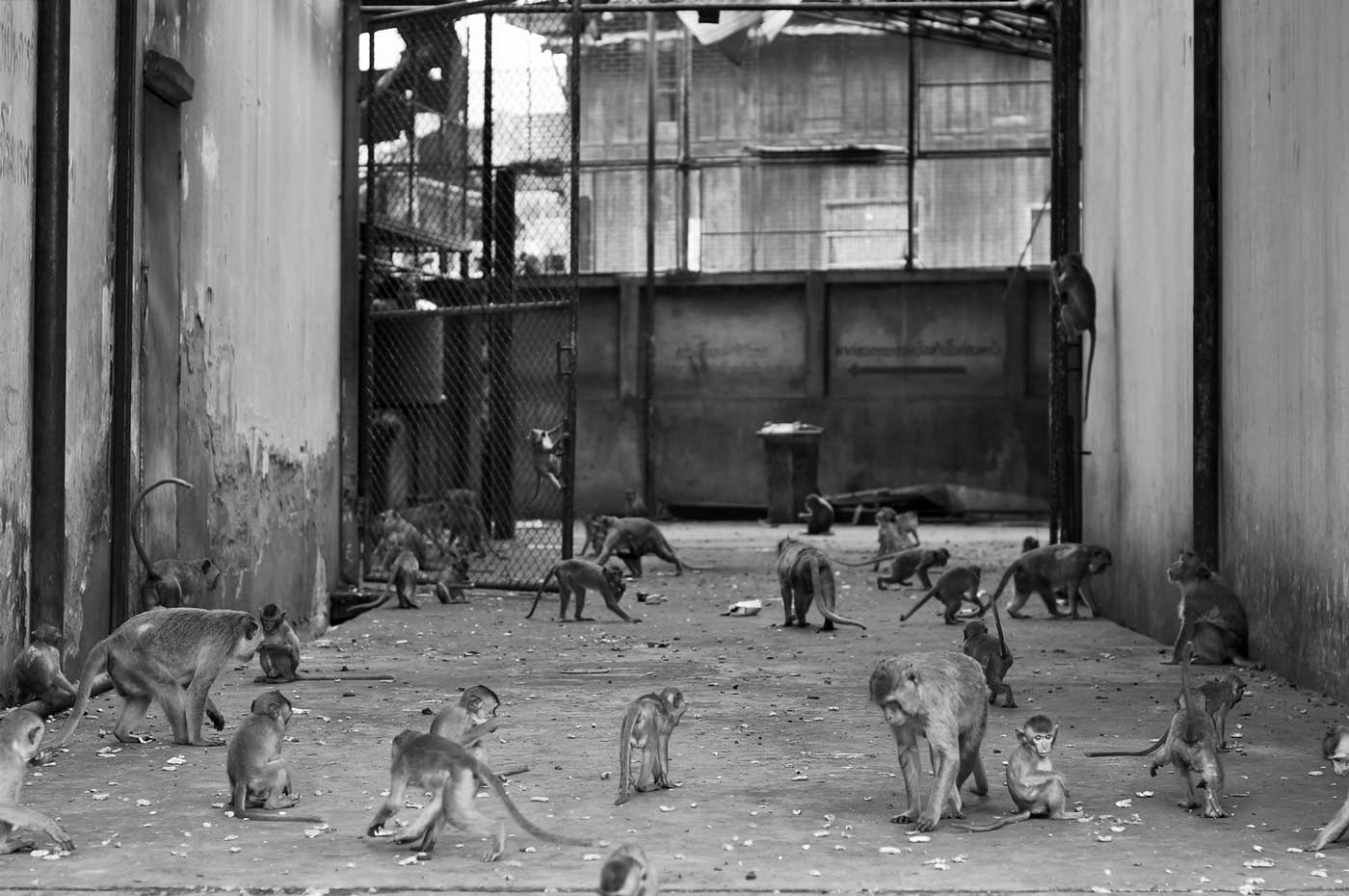 After a while, once the fear that they might attack you subsides, the whole monkeys-in-the-street thing actually starts to feel all very normal.
I began to feel more comfortable trying to get a little closer to them. As slowly and non-threateningly as possible of course, but they didn't seem too interested in what I was doing.
This new found confidence meant I could take my time and get some portrait style shots.
Of monkeys.
Yes, I know.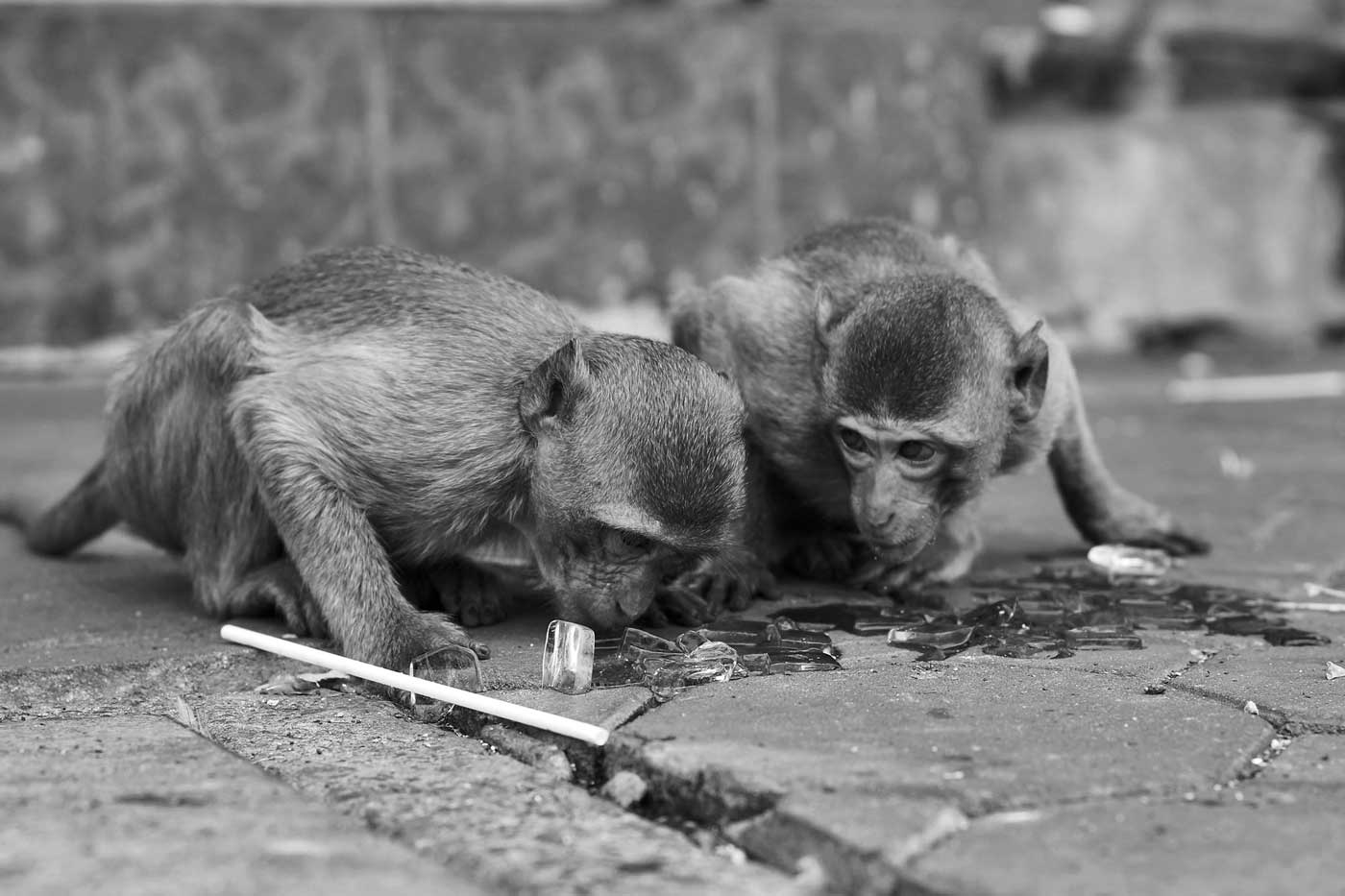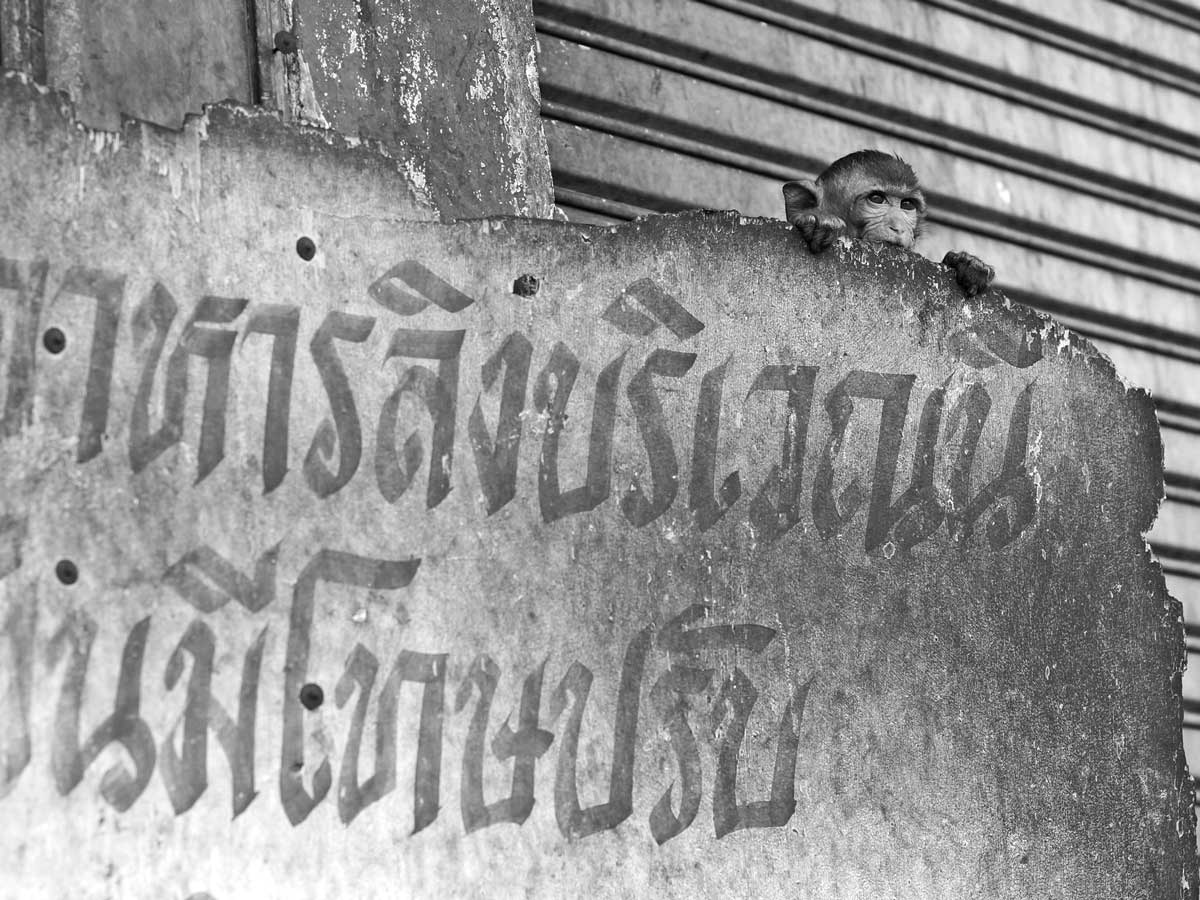 Although the monkeys do seem happy to mind their own business most of the time, it is worth remembering that they are not tame or domesticated. The few times I saw squabbles, it appeared to be territorial.
One monkey was chilling out on an electrical box, another monkey wants to chill out on the same electrical box. A fight starts and quickly ends.
One monkey was sitting on a cable, another monkey wanted to sit on that same cable. A fight starts and quickly ends.
I was able to capture a bit of that second one as it happened. Using a 55mm lens meant I could stay at a safe distance, so I set the camera to continuous shooting and fired away.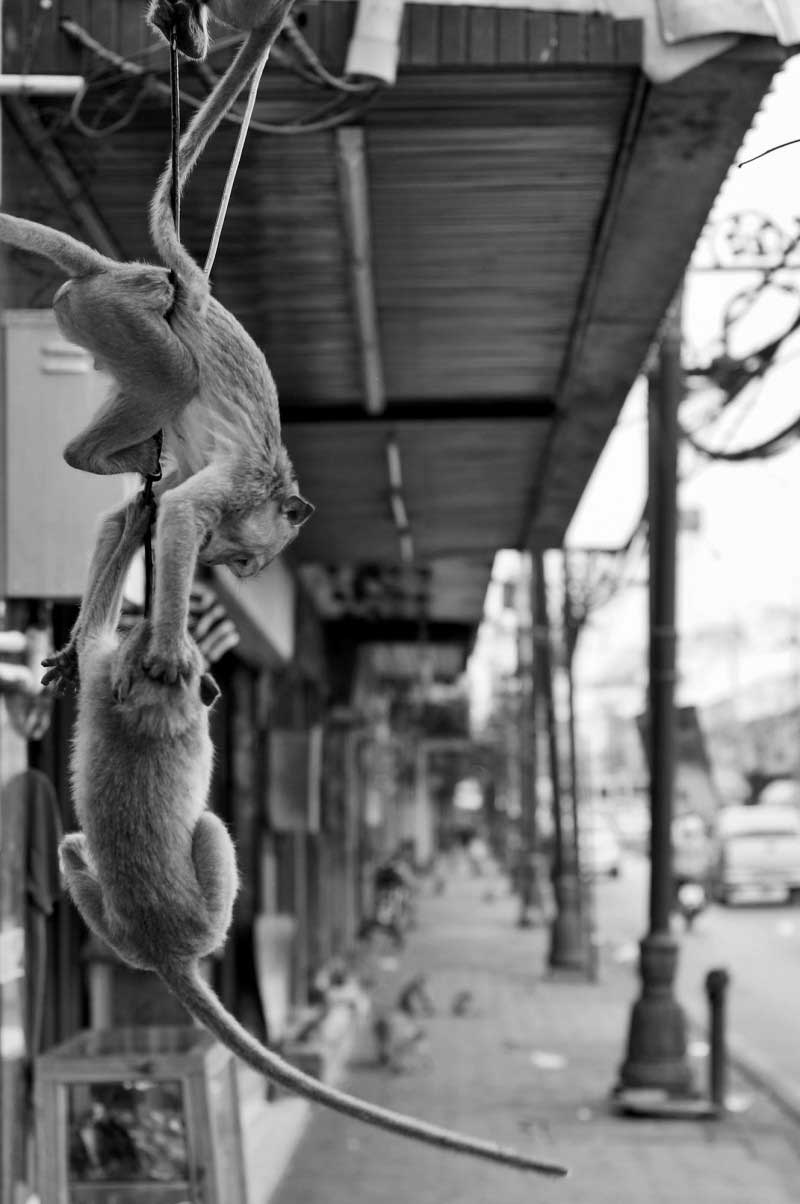 Seconds later, it was over. The loser slunk away, seemingly unhurt, while the victor sat proudly on his cable, king of the urban jungle until someone else comes along and decides they want to sit there and is prepared to fight him for the privilege.
After all the excitement, I needed a drink and some food before catching the train to Bangkok. At the aforementioned Indian restaurant, I got both before heading to the station.
My one day in Monkey Town had been a success. Arriving at 4 am had felt like real travelling again; as had taking a nap in the ruined temple grounds. I'd come away with enough decent photos to be able to make this post, and I'd even managed to squeeze in a curry.
Arriving back at the station, I took my bag from the left luggage and waited for my train.
One pulled in.
Something told me it wasn't mine.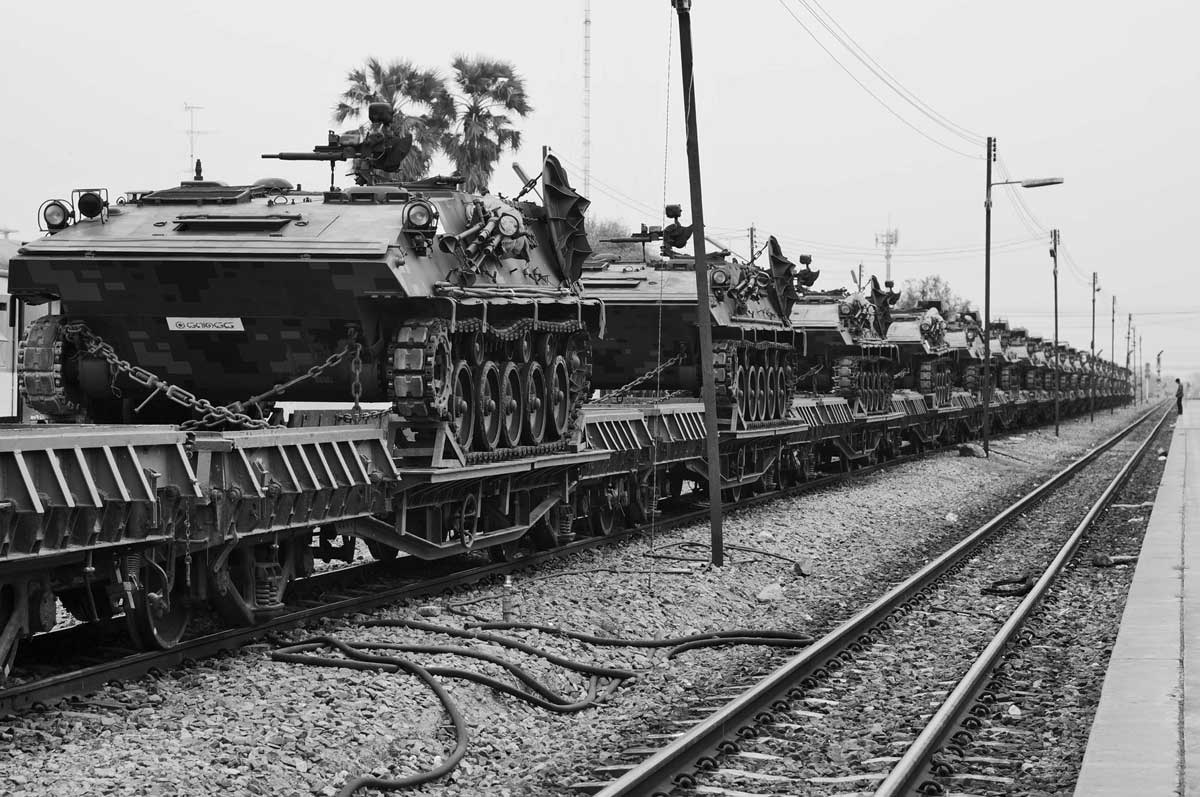 There's just something about a train carrying heavy military machinery through an Asian country recently taken over by a junta that makes it photogenic.

Lopburi had been good to me that day.

The photographs were always going to be about the monkeys, but the town had offered much more. Starting with the morning market, continuing with unexpected festival that I didn't make the most of, and ending on the final bonus at the station, all I can really say is... tanks, Lopburi.

Tanks a lot.

This article has been edited and reprinted from "Lopburi - a Day in Monkey Town" post by Lee Webb on his blog, My Favourite Lens.