By

dmitrizzle

Header image credit: ArtSocket
Art and design are not the same thing. Just because you are good at art doesn't mean that you are going to be good at design as well. I had to learn it the hard way.
I was always into making stuff. When I was a little kid I lived with my grandfather who was and still is a huge influence on me. A lot of our playtime consisted of constructing toys out of paper and other materials. This habit of constantly doing something with my hands manifested in my early fascination with technology.
A lot of things changed at the university. I was still very proficient at and excited with technology. But art has entered my life in a big way. All that I ever wanted to do was play music. This was also the worst time in history to become a musician. The traditional "record deal" got shattered as countless labels went under and never bounced back. And everyone with a laptop suddenly became a DJ. Being a recent immigrant with constant financial tensions did not help either.
I did the math: start-up costs for Internet businesses are nearly zero. The easiest thing to produce for and display on the web is images. I was very confident in my skills as an artist (I won a few awards at the time) and a web designer (I built websites since I was 15). So building an online gallery/store seemed to be an easy task.
Unfortunately, my assumptions turned out to be completely wrong. What I thought to be an easy task turned out to be a complicated venture, running for over half-a-decade. It took a lot of my time, it wasn't cheap but I've learned a lot.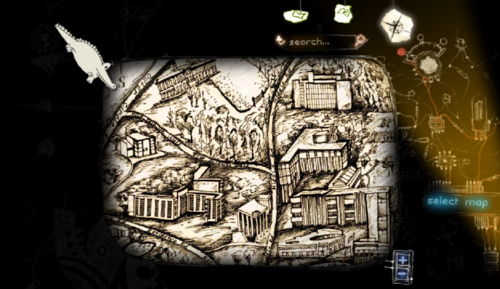 Everything started with datube.ca (it's long dead now). After producing a somewhat successful short art film "Animation" I began designing something that I thought would be a website to host mine and anyone else's art in one place. It was to be a location-based social network. It was a fresh idea: Google (at the time) didn't even allow placing stories or images on its map. There was a focus on art and it got attention of many of my friends, teachers and classmates. I even got a substantial grant, office space and staff support to develop this project.
It might have taken off if it wasn't so horribly designed. The website was extremely difficult to use — on purpose! I remember thinking: "My visitors will enjoy solving the puzzle of finding the right button". It was a maze. This was as far from a useful design as it could be. A beautiful piece of art with cool visuals, but not a website. I am so angry right now just thinking of how foolish this sounds.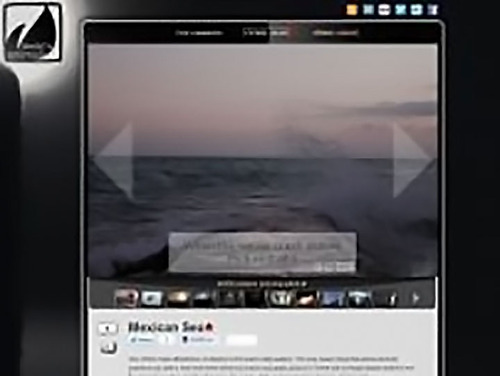 One of the things that I believe helped me evolve the website is the feedback. Without the constructive criticism from my friends and family I would have no point of reference as to how useful it is. Their frustrations and advice pushed me to change it completely. With this new iteration Flash has been abandoned, navigation simplified and accent placed on the content rather than the website itself. It was a different animal by the time I was done.
Although my previous design was a step in the right direction, it brought no sales. More work needed to be done. By this time I have realised the importance of getting feedback early and incorporating it into the product. Research became the new tool that allowed me to push the design even further. Spending hours online looking at websites that are much more attractive and functional than mine gave ideas about how I can make ArtSocket better. Countless articles about responsive design instructed me about the importance and complexity of the new, fluid web.
So the new version was born. It accented hugely on front-end architecture (a more modern approach that took advantage of better browsers). The spotlight shifted to the image: it became a responsive, full-screen slider. I have also rebranded the business with a new logo and gave more emphasis to getting guest artists to post and sell their work on ArtSocket. Still, no sales.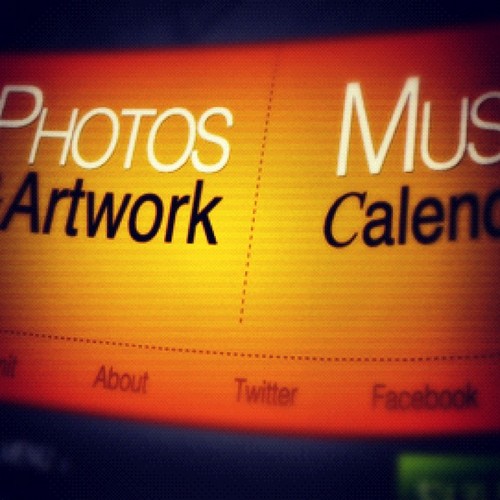 3rd party services have always been a pain point for me. The problem that I found with plugins is that most of them were general purpose and never actually did exactly what I needed without bringing that extra weight. It felt as if I am shopping for a toaster but I can only have it if it comes with a stove. Same with CMS' and libraries - everything came with compromises. So I trimmed those extras as much as I could. But there was one thing that I just could not do on my own: payment and printing.
Up to this point I was relying on Fotomoto to do it all for me. It was limiting since I had no control over how the widget looked or the quality of the prints. Sounds horrible but at the time I was sold on the idea that an order could be processed and money could be in my account while I am having a vacation. Well let me tell you something: this is not a way to do business.
The service came with some conveniences and drawbacks. But the straw that broke the camel's back was a major service disruption when Fotomoto got into a serious trouble, following a deal gone wrong. When the service got purchased by LiveBooks in 2013 it got dysfunctional. The company's forum boards got flooded with people pleading for help and reports from users who phoned the founders and got "it is all out of our hands now" replies. This whole incident is now swept under the rug, nobody seemed to wanna report this story either. A lot of people lost money, including customers who got charged and never actually got the prints.
This was bad news for my business but I was not at the point of loosing sales… Because I didn't have any. So I've got a new print partner and a payment processing service. The full control over how the payment went through and the quality of the product was finally in my hands. There was one problem though: I have never seen my own product. At the time I set the price point so that you could purchase a canvas print from the website for about $140-300 USD. I could not afford to order a single sample.
Although my confidence in the quality was high as I have had a chance to make canvas prints elsewhere, sell them and donate the profits to a Toronto charity. I was ready to take returns and ensure that the customers are happy. But the fact still remained: I did not know anyone who would spend this kind of money on art from a random dealer online.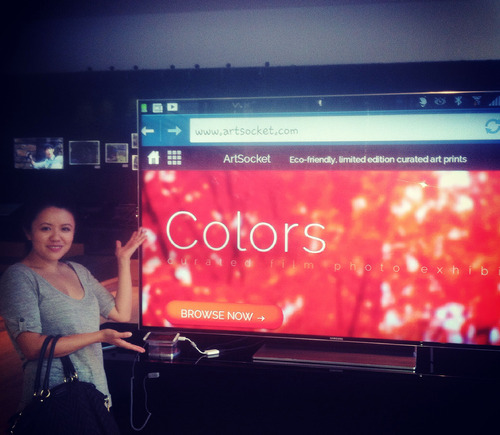 Up to this point I have built and rebuilt this website a whole bunch of times. There have been numerous code rewrites and redesigns. I've also omitted thousands of features that I've developed over the years simply because it would just bore us all to death. This enterprise has been a code and design hole. All the time spent on it went into making it look and work better. And very little has been left for product development and marketing. I did it this way because I hate product development and marketing. All the hours spent coding and designing were meant to free me up to just create art and have it sold online for me automatically. It has now became obvious that it wasn't going to work this way.
The time came to make a decision. I gave myself until January 1st, 2015 to sell $1000 worth of art or abandon the project.
The work began on (yet) another design update, finding the right printer, getting good content on to the website and a marketing plan. Of course it took longer than expected, and of course I spent more time on the looks and the guts of the website than I should have. But at least this time there was a solid plan, goal and the vision for the project to finally come together and make some business sense.
New "flat" design has been implemented. Better, faster mobile experience and better copy has been added. And although my (often counterproductive) obsession over the looks continued with this iteration there was a clear purpose. I wanted to sell art, I wanted the decision to buy it to be an easy one. I wanted it to remain non-pushy, beautiful yet focused experience around browsing and shopping for beautiful art and photography prints.
This time the product had to be amazing. A lot of time and money went into finding someone really good to make it for me. I tried a few shops locally in Chiang Mai and Bangkok. My hopes were that I would be able to get an excellent deal by making prints in a Third World country and ship them worldwide. No dice: communication barriers and quality paper availability aside, it turns out that shipping from the United States using UPS is both the fastest and cheapest method. Plus, the material costs during the printing process seem to be massively outweighing labour expenses. So I decided to work with Picture Salon - a shop in Wisconsin that both provided amazing quality prints and a great customer service. Of course I had to buy full-sized prints from all of the shops that I've tested at various settings, different paper, shipped around the world and see for myself how the image would turn out.
Numbering and controlling the editions became a big thing. I decided that there will never be a single print made without: 1) paying full royalties to the artist, and 2) counting it against the total # of editions available. Nobody gets a special treatment and every single poster comes with the run number, artist portrait, signature and serial number. At $50/pop these prints are still not cheap so I wanted to give as much value as I possibly could, even before there was any art printed on top of that paper.
As quality became one of the major players in this business I directed my particular attention to the collection. The most reoccurring feedback that I have received from my dad was to add more art. I decided to do the exact opposite. I might be shooting myself in the foot here. It almost seems as if I am repeating my previous mistakes of going against the current, trying to do things differently than the other guy in the same business space - but it just felt right. There are so many websites online that sell absolutely stunning artwork, images that I could never hope to produce or even acquire — and they have so much of it! How could I ever compete? The only thing that I felt would make sense, from the very beginning, was to limit the amount of stuff available. Keep only the best art, constantly trim things that no longer fit and evolve to become a truly curated art gallery. If I could do this right, every other website will seem like a warehouse compared to my cozy little space, neatly filled with just the right works in just the right spaces. That's the vision.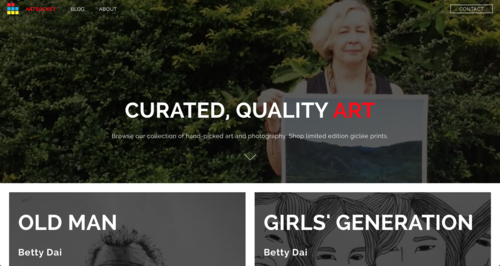 Marketing is so very foreign to me. In fact, I created this website in hopes that it will do all the marketing for me. Perhaps I'm not all bad though. I'm 30 and I've had a lot of experience in the industry. I've also co-founded another business with two of my friends that will (hopefully) be getting some funding soon. I've worked on numerous business plans, presentations and strategies. I can also learn very quickly. But I want this to be bootstrapped, true to the way it began: no debt and focus on quality.
I can now afford my prints. I can have my friends and family take pictures with them to show the world how they would look in your hand. I can afford microscopic Twitter and Facebook ad campaigns and I can still invest substantial amount of time in building up the website. I can not afford anyone to do this for me.
—
It is now October and I believe there are finally some results coming in. I have had a few of my friends and acquaintances actually buy the prints and give me positive feedback. Best of all: I have had someone I have never met or heard of in my life buy a print. The feeling of being woken up in the middle of the night with "Congratulations! You have just received a payment of $53.99." is simply intoxicating. Who ever you are, dear sir - thank you!
I still don't know what really motivated my customers to make the purchases. But I have a feeling it might have taken them a little bit more than clicking on an ad and a "buy" button immediately after that. Right now I am working on incrementally improving the experience (squishing bugs, adding features, editing copy) and adding value. I am always on a lookout for great new art to add to the site and am continuously building my credibility by helping others in similar situations and participating in meetups, podcasts, Quora and more.
Another big-ish thing that I am working on is this mag. This is still an ongoing project with a goal of converting all of the existing posts into something that is fun to read and is helpful and informative. Maybe it is the new design, copy or simply the whole feel and attitude around this business that got me more attention than ever this year. Google now sends a lot more traffic, people seem to stay and read the stuff that I have written.
Going back to the @randfish's advice on moving the blog from subdomain to subdirectory: *very effective* pic.twitter.com/lH6tfSB1Lv

— Dmitri (@dmitristweets)

October 5, 2014
Right now I have moved approximately three to five hundred dollars worth of prints form this website (depending on how you count it). It is beginning of the busiest shopping season of the year (Christmas!!). I've got my fingers crossed. Wish me luck.
—
Update (Jan 9, 2015) It became evident to me that spending money on a project like this using social and search ads online during the Christmas shopping season is a very bad idea. In the end, I was not able to reach the goal I was hoping for. (I fell about half-way short, can you believe it?) The reason: partly unknown; but my guess is that it was due to me being preoccupied with the technical side of things and the product - while forgetting to identify and connect with possible allies and marketplaces. Or maybe it's just an incredibly difficult product to sell and/or I am a bad salesman.
But I really don't have the heart to just shut this business down. I thought I did, but I don't. It took too much work and too much time to be just shot in the back-alley. Instead, I will be concentrating on things that make me happy: the art, the mag, the connections with like-minded people. So less coding, less designing. Perhaps 2015 would be a better year. Wish me luck please.