By

dmitrizzle

Header image credit: ArtSocket
This week I had a chance to ask my friend Ron, graphic artist, designer, gamer and DJ a few questions about his new creative project.
Every (work) day, since February 3rd Ron drew a fictional character portrait on an empty container from his daily caffeine fix. He posts the results of on his Instagram account, Twitter and, if you know him personally - Facebook. By now I fully expect it, it is my reminder that I need to get my coffee too and start doing something with my life.
What gave you an idea to start decorating your coffee cups?
Originally I saw a post on the Taxi design blog about a San Francisco based designer and illustrator who was doing something similar, but on a much higher level. I thought it looked like a fun project that could get me drawing again. I used to draw a lot, but over recent years I've done a lot less as I became preoccupied with work and various other hobbies.
How many of the coffee cup drawings have you created already?
Well, seeing as how February just concluded, and I've done one drawing each work day, I have about 20 at the moment.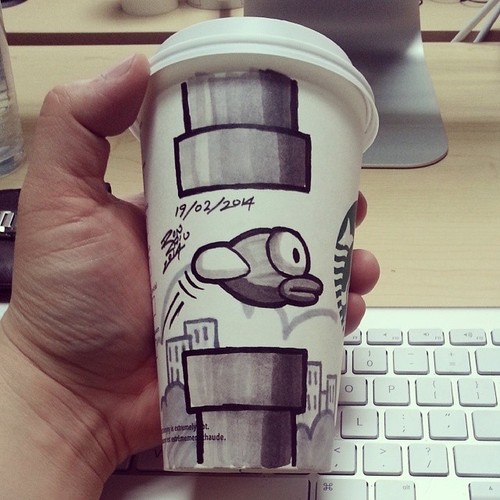 Which one was the first one?
The first one was done on February 3rd. Just some random anime-style girl's head. It wasn't very good, but it got the ball rolling to draw something everyday.
Do you have a goal in mind, for example "draw 300 cups" or is it an ongoing project?
No real goal. It's just something I'll keep doing until I get bored or think up of a new project to do with my coffee addiction.
Where are all those cups now?
They're all sitting on the vacant desk next to mine at the office.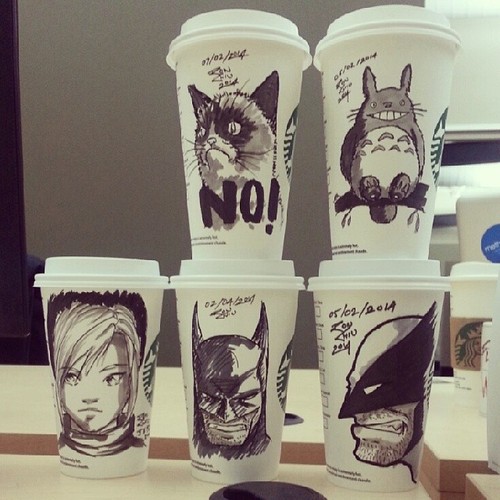 Any particular reason you choose Starbucks cups as your canvas?
No real reason other than I go there a lot. And the sides have this clean white canvas that seems to beg me to draw on it.
Have you got any personal favourites from these drawings?
Of the batch done so far, I'd have to say the "Forever Alone" (below) Valentines cup was a fun one. Other ones I enjoyed would be Grumpy Cat, Ninja Turtle, and Optimus Prime… Those are the ones that turned out a little better. But as far as enjoyment, I enjoyed working on all of them. Most of them are drawings of things I enjoyed in my youth.
Do you take requests?
Occasionally I'll get some requests from friends on Facebook or from coworkers. I'd do one if I think it'd be fun to draw. Not everything gets put into the queue as I only do one cup a day. No work would get done if I were only drawing on cups all day. Bills need paying, you know?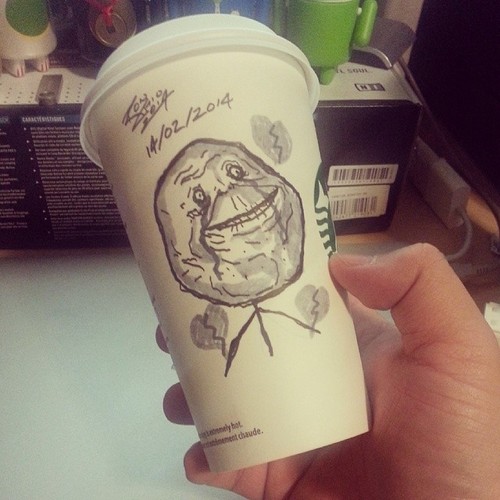 How would you describe your style?
I guess it's somewhat of a cross between western Japanese comic drawing styles. Certain things look like they come straight from a superhero comic. Other times, it looks like it comes from manga or anime.
How long have you been drawing?
Pretty much all my life, though I've done a lot less in recent years. This project was just to get me exercising that skill again and to hopefully have it grow and progress again.
Do you have any formal art education?
Not really. I did a year of Art Fundamentals at Sheridan College, but later on ended up taking Seneca College's Digital Media Arts program, which was mostly computers based. Sometimes I wonder where things would've taken me if I'd been a more serious student then and gone all the way with the Illustration course.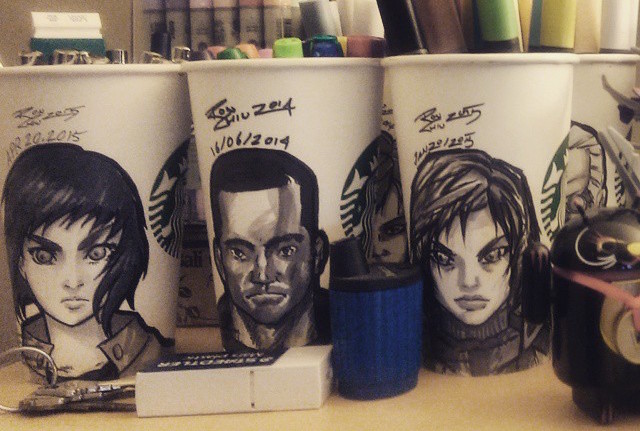 What do you do when you are not creating coffee cup art?
When not drawing on coffee cups, I'm probably working! I usually do these drawings while on my lunch break. I'm a UI, Web, and Marketing designer, and front-end web developer at my day-job.
Do you have any other cool projects coming up or anything to add?
No other art projects at the moment, but who knows. I may one day try to do a comic again. I'm glad that people on Facebook and Instagram are enjoying these random marker drawings and hope they enjoy what's to come for as long as I'm able to keep this going.