This is a three-part story about my trip to a semi-closed South East Asian country of Myanmar. Read: part one, part three.
Bagan and the Water Festival
We arrived by bus somewhere around 4:30 AM.
Lodging in Bagan was sparse and expensive. Our tiny, badly-kept room cost us $20USD per night. The staff demanded crisp, off-the-press banknotes and would not accept anything that had as much as a single crease; it was our last "acceptable" set of bills (we later had to exchange our "bad" US dollars for "fresh" ones - for a fee). Food was relatively pricey and sickening due to low sanitation standards. So we decided to optimize our trip and try and see as much of the historical site as possible in the first couple of days. Followed by time off before going back to Yangon.
We also modified our diet to biscuits and water to avoid further vomit episodes.

Hot air balloon rides (a popular attraction, depicted in a number of photos online) are around $300USD per person, need to be booked months in advance and are not guaranteed. So we didn't do that. But we did manage to see the enormous temple-city on our own (no tour guides). We even managed to climb on top of couple temples and see the spreading panorama of a place that used to be a shrine mecca. It was awe-inspiring. So much so that we'd forget all about our worries by just being there (until the sun came to kick our asses).
Foreigners are not allowed to drive motorized vehicles in Myanmar. Cheap electric scooters rented from a guesthouse or a hotel are the only transportation available. They aren't that bad; kind of slow but very quiet and the battery seemed to last enough for a few hours. That's what we had for the first two days to explore the city.
Just like Siem Reap (Cambodia) there were famous, popular sites and the lesser known pagodas and temples which would stand empty. Though Bagan is much, much larger than Angkor archeological site (that's in Siem Reap, Cambodia). I'd imagine one would have to spend at least a few months of daily exploring to see everything; maybe more.
The dry, sun-scorched grass colored the landscape gold while the lush palm trees gave it a luxurious glaze. A few hundred years ago, when this city was alive it has probably been like Asian Beverly Hills. Super posh.
The vastness of this city did not sink in until we got to climb above the tree line. Temple roofs peaking through the jungle as far as the eye could see.
Before this city got conquered by Genghis Khan and deserted, it was actually physically larger. Almost a third of it is known to have been washed away by the giant Aye Yar River.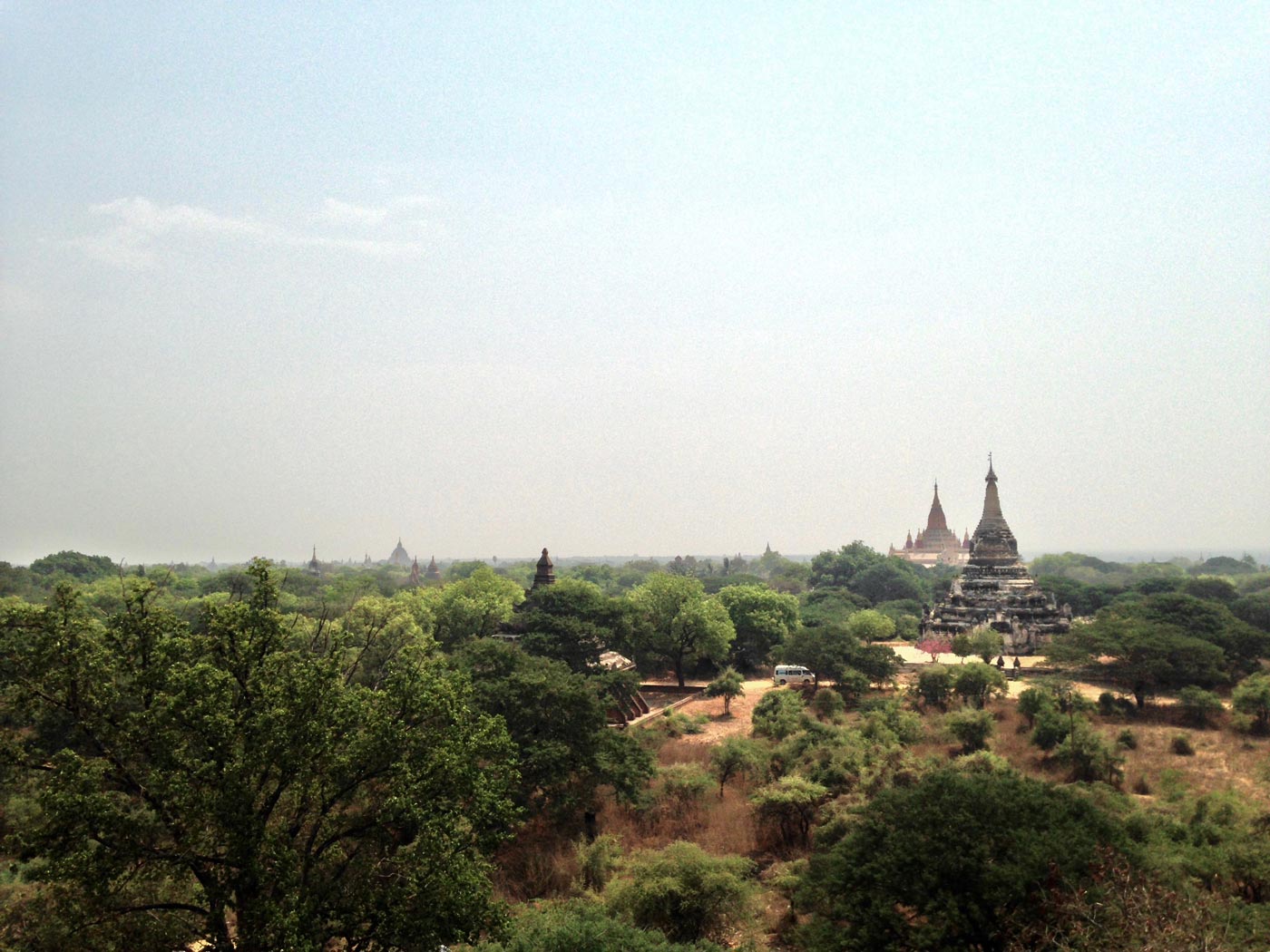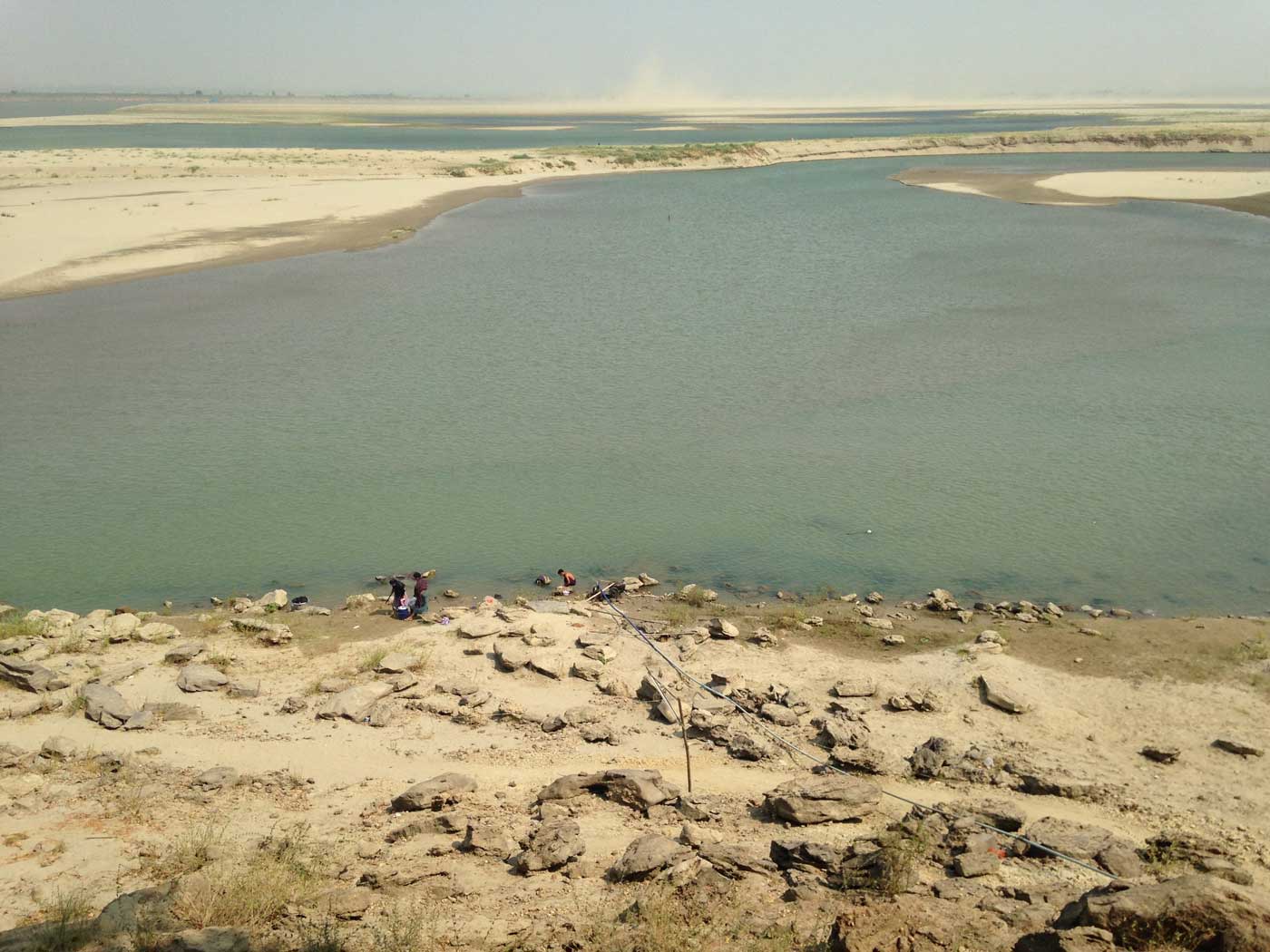 Exploring Bagan during the hot season is exhausting. The air is filled with dust and ash from the farm field burnings. The sun is incredibly hot, without a single cloud to cast a life-saving shadow. Our solution was to wake up at 4AM, explore, then nap and do another trip before the sunset.
The only problem with that otherwise brilliant strategy was that this was an entire week that the whole country took off to soak each other and blast music from every device that's capable of doing so. Naps couldn't happen because our walls were shaking uncontrollably as the surprisingly powerful speakers started pumping songs at around 10AM for the entire time there was light out. Our shitty little room was also a club now.
During the Thingyan Water Festival holiday the country shuts down most of its businesses (including transportation) for the entire week. Everyone gets soaked, drunk and jolly - everywhere. All. Day. Long.
I'm too old to party so hard, this long. In fact, I don't think I ever was young enough... It's so intense!
A few jolly, wet and exhausting days later we boarded a train to Yangon.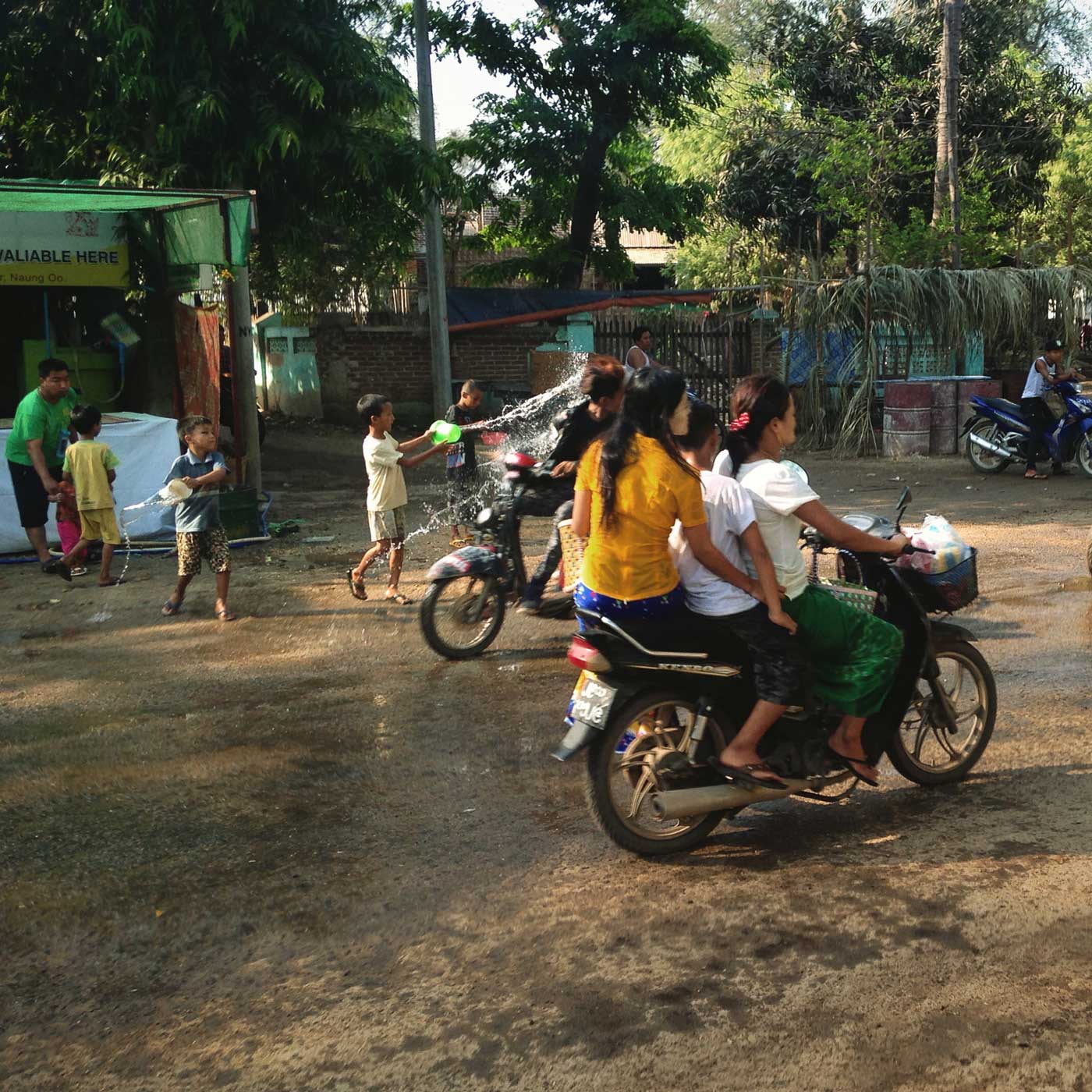 ---